Daily Routine is back!
Why did Daily Routine disappear?
Daily Routine was released in August 2011 for a one-time purchase price of US$2.99. Over the next few years the app had 30+ free updates, including major updates adding features such as iPad support and sync. With several promotions from Apple itself, great support and constant improvement, Daily Routine found an enthusiastic niche audience. Good times.
Sadly as the years went by, the economics of the app store changed with 'free' becoming the new default price. Evenutally in September 2015, Jaysen (the developer of Daily Routine), reluctantly removed Daily Routine from sale as continued development was no longer viable. Existing users could still download and use the app, but with development ceased, users began experiencing more and more bugs. Dark times.
Subscriptions, a new hope
As the world kept spinning, Jaysen kept thinking about Daily Routine and enthusiastic users kept requesting Daily Routine's return. The App Store altered beyond all recognition, but one particular development changed everything: Apple began allowing subscriptions for productivity apps.
In 2019, Jaysen set the wheels in motion to bring Daily Routine back. Plans were made and remade. Deadlines were set and missed. Modern APIs and programming languages were adopted. User interfaces were rethought. Code was written and rewritten (and rewritten).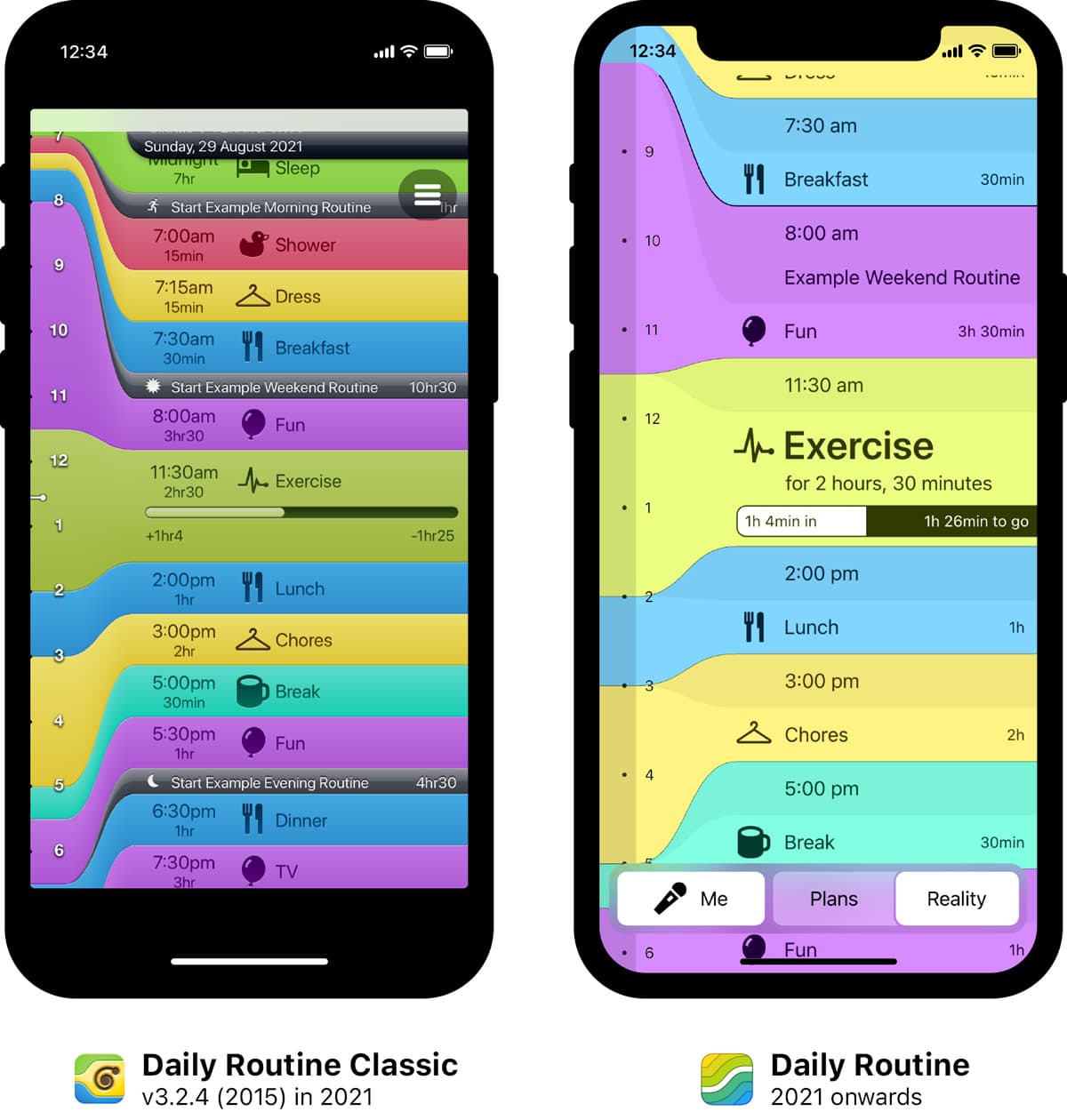 Daily Routine returns
In September 2021, ten years after its initial release, Daily Routine has relaunched with a subscription model and free trial. Though not everyone's cup of tea, the subscription model has huge implications for Daily Routine:
More stable revenue allows for long-term planning and time to be invested into ambitious feature work
Linking revenue to the satisfaction of all (not just new) users returns focus to product development, rather than marketing
Trials become feasible, letting people easily try Daily Routine for free then walk away if it's not their thing
For those who don't do subscriptions, a one-time purchase option gives them the same Daily Routine but with a finite cost of about 3 years worth of annual subscription.
What happens to the old version?
The original Daily Routine is frozen in time but has been rebranded as Daily Routine Classic. No updates or bug-fixes are planned for Daily Routine Classic. Users who purchased the Classic between 2011 and 2015 can still reinstall it from the App Store and keep using it until Apple discontinues the APIs it uses. The sync services referenced by Classic (Dropbox, Google Drive, iCloud) are deprecating their old APIs in such a way that Classic's functionality will continue to degrade. Our recommendation is to disable sync entirely in Daily Routine Classic to minimise instability.
Can I use both Daily Routine and Daily Routine Classic?
Yes. Daily Routine Classic is not for sale but if you bought it in the past you can certainly keep using it. You can even install it on new iPhones and iPads. Please be aware though that Daily Routine Classic will not be updated, so it will continue to degrade as iOS changes and various sync providers change their APIs. Be aware that the two versions cannot share data back and forth, they are effectively independent apps. All development effort will go to the new version of Daily Routine.
Daily Routine vs Daily Routine Classic
Daily Routine is intended to replace Daily Routine Classic but there are some features which haven't been re-implemented yet and some which never will be. Daily Routine also brings many new features that weren't possible in the past with many more to come.
Daily Routine Classic

Daily Routine

Activities

✓

✓

Routines / Sequences

✓

✓

Single Timeslots / Blocks

✓

✓

Schedules / Plans

✓

✓

Quiet Time

✓

✗

Notes

✓

✓

Unplanned Blocks

✗

✓

Unplanned Sequences

✗

✓

Skip Instance

✓

✓

Edit Instance Time

✓

✓

Planning Eras

✗

✓

Core Functionality
Notifications

✓

✓

Sync

✓

Planned
PDF export

✓

Planned
Import

✓

First-Run Only
Export

✓

Planned
User Interface
Optimised for modern devices

✗

✓

iPhone Portrait

✓

✓

iPhone Landscape

✓

Planned
iPad

✓

Planned
Calendar View

✓

Planned
Timeline View
Endless Timeline

✓

✓

Calendar Integration

✓

Planned
Overlapping timeline items

✓

✓

Gaps in Timeline

✓

✓

Transitions

✗

✓

"Reality" Timeline View

✓

✓

"Plans" Timeline View

✗

✓

Routine / Sequence Editor
Overlapping Timeslots / Blocks

✓

✗

Gaps in Routine / Sequence

✓

✗

Move Block Up or Down

✗

✓

Insert Block Before or After

✗

✓

Daily Routine Classic

Daily Routine